TIC
TIC Member Privilege: Special airfares offers by the Hong Kong Express Airways Limited
2022-09-20
The Hong Kong Express Airways Limited (HK Express) offers special airfares to TIC members who may purchase air tickets between Hong Kong and Okinawa or Nagoya on designated flights at HK$300 [excluding meal, fuel surcharge and luggage (HK$290 for 20kg per one way]. The details of the options are as follows: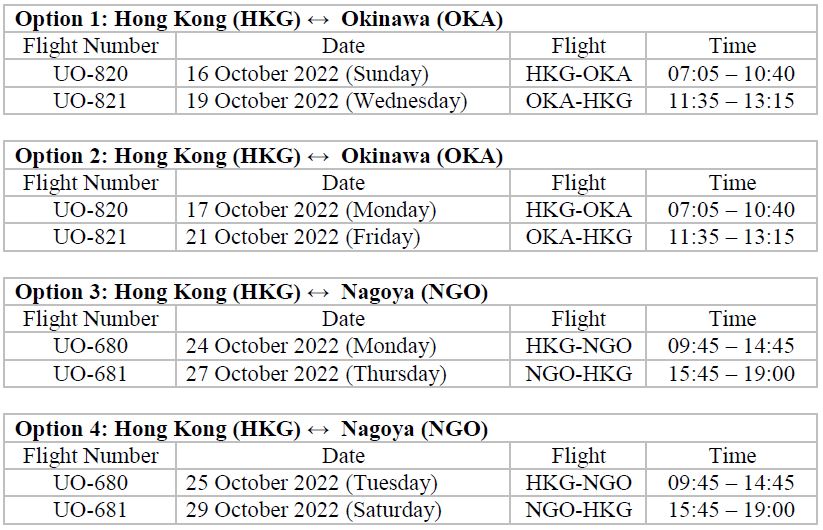 HK Express will try their best to accommodate each application, however, due to the limited number of seats offers, the allocation may be determined by ballot. Each member only gets one quota of ballot and participates in one draw (ie. one of the above four options), and has only one chance to win the ballot. If a member submits more than one application, the TIC will only accept the first application received. The applicant must be an employee of TIC member travel agent, and must submit a company certification letter (please refer to attachment 1 and upload it to the online application form). Each application form can only be submitted for one flight while two application forms cannot be submitted at the same time for different flights. The application deadline is 5:00 pm on 26 September 2022 (Monday).
If the received applications exceed the number of seats offers, TIC will hold a live open ballot on 27 September 2022 (Tuesday) picking the successful applicants. Successful applicants may purchase from HK Express up to 4 air tickets at a special price (for 1 employee and 3 companions) in the same booking for the same flight. The right to book the special airfares cannot be transferred or resold. Successful applicants are required to apply individually for a Japanese visa (please click here for details) and comply with all relevant anti-epidemic regulations.
Interested TIC members may click here to submit the online application form for participating in the ballot. The TIC will inform the accepted applicants by email with the link to the live open ballot. After the ballot, successful applicants will be informed by HK Express through email on the purchasing arrangement on HK Express's official website between 28 and 30 September 2022.
Looking forward to your participation!